Nevada will be the base for Vay to explore the US market for its remotely driven door-to-door mobility service
Former Uber global leader Caleb Varner will lead the US business as General Manager
Close cooperation with German authorities is underway for the launch of the service in Europe
Berlin/Las Vegas – May 31, 2023 – Vay, the world's leading teledriving (remote driving) company from Berlin (Germany), is opening an office in Las Vegas, Nevada (USA) to expand into the US market. In February 2023, Vay was the first company in Europe to remotely drive a car with no one inside on a public road. Caleb Varner, US General Manager, will lead Vay's business in the United States and brings similar experience from Uber, where he was responsible for building the car rental business. Vay's mission is to solve transportation in metropolitan areas by aiming to launch a safe, affordable and convenient door-to-door mobility service.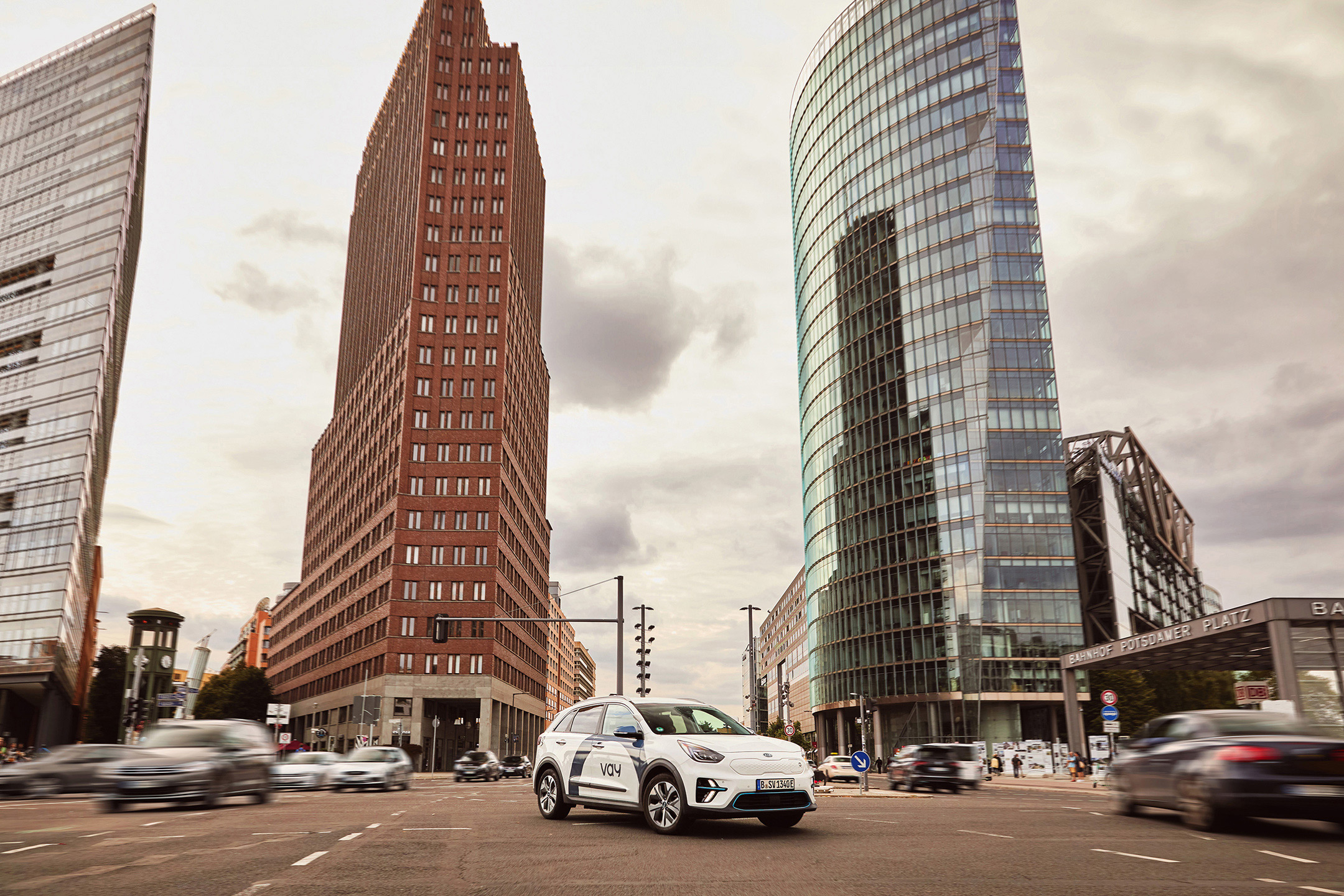 Thomas von der Ohe, co-founder and CEO of Vay, says:
"We are excited to enter the US mobility market. Our team is talking to stakeholders in various states and has started to work on launching an initial service. The market is ready and the responses we have received so far from regulators, city governments, and potential customers in the US show that it's a very dynamic market that we will be exploring in the near future!"
Vay opens its office in the downtown Las Vegas Arts District as its first step into the US market. Vay's office is part of the Las Vegas city investment in economic development in their International Innovation Center.
Las Vegas' Chief Innovation and Technology Officer Michael Sherwood on Vay coming to Las Vegas: 
"We're more than excited to have Vay setting up their US operations here in Las Vegas. They are part of a growing mobility and technology ecosystem that we are investing in and building in the city that we expect to have international impact – both as an employer of top global talent, but also increasing the mobility options for tourists, and residents alike."
Vay's team of 150+ people headquartered in Berlin combines the best of two technological worlds: software and product experience from Silicon Valley and automotive hardware and safety engineering from Europe. With its first service, Vay plans to remotely deliver and return electric cars for its customers. Responsible for the next steps in the US is Vay's US General Manager, Caleb Varner.
Caleb Varner from Uber taps into the US market for Vay
Caleb Varner joined Vay at the end of last year. He moved from Uber, where he was Director, Global General Manager & co-founder of Uber Rent & Valet. As former General Manager of one of Uber's mobility investments, Caleb will work closely with Thomas von der Ohe, Vay's co-founder and CEO. He will focus on bringing Vay's teledriving technology to the US with the objective of launching Vay's remotely driven mobility service.
"I am excited to be a part of Vay and launch our service in the US. Vay's teledriving technology and innovative approach has the potential to reshape the way people move – not only is that a huge business opportunity, but also a service that we see missing from today's transportation ecosystem. The broader team at Vay is excited about taking this german-born technology and using it to change the way Americans move and building a future with reduced personal car ownership," Caleb explains why he joined the teledrive company.
A first in Europe: Vay drives without a person inside the car
Vay is the first and only company to drive a car on European public roads in Hamburg (Germany), with no one inside. Vay works closely with the authorities in Germany to receive the next permits to launch their teledriving mobility service. The mission: Customers order an electric vehicle via the Vay app and the teledriver brings the car to the customer – remotely driven from the teledrive station. The customer then jumps into the car and drives themself to their destination. Once there, a teledriver drives the car to the next customer. No time spent picking up a car or trying to find parking.
Teledriving (remote driving) technology
Vay is developing an alternative approach to autonomous driving called teledriving. The teledriving technology enables a person ("teledriver") to control a vehicle remotely. Teledrivers sit at a teledrive station with a steering wheel, pedals and further operation devices for vehicle control developed to meet automotive industry standards. The visual perception is reproduced via camera sensors and transmitted to the screens of the teledrive station. Road traffic sounds, such as emergency vehicles and other warning signals, are transmitted via microphones to the teledriver's headphones.
With their 'teledrive-first-approach' Vay aims to offer a safe, affordable and convenient alternative to existing mobility services. In the future Vay plans to gradually introduce autonomous driving functions in their system as it is safe and permitted to do so, based on high-quality teledrive data.
Vay press contact
Anja Rechtsteiner
Director of Communications
[email protected] / [email protected]
+49 176 60404217