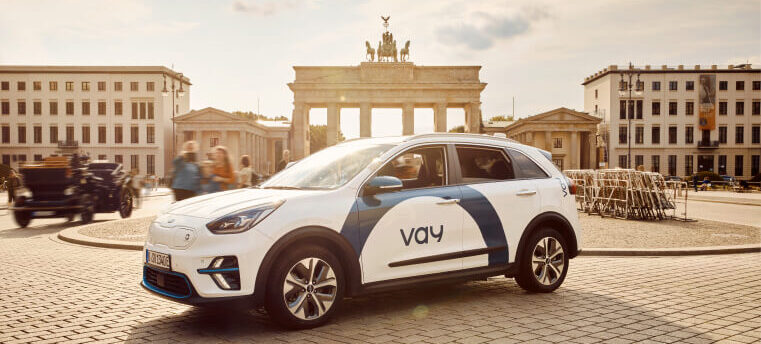 Vay is a leading teledriving company that aims to launch a unique, affordable, and sustainable door-to-door mobility service. With its first service, Vay plans to remotely bring and remotely park electric cars for its customers.

Vay is a deep tech company based in Europe and the United States. Our team is diverse and international, hailing from over 30 countries. It combines talent from multiple worlds: from automotive and safety engineering to software, product, regulatory, operations and many more.
Vay recently raised a $95m Series B funding round to become one of the highest funded startups in Europe to pursue self-driving car technology. Investors include Kinnevik, Coatue, Eurazeo, Atomico, La Famiglia and Creandum, among others.
Press
Anja Rechtsteiner,

Director of Communications

+49 176 60404217

General Press Contact

Please note that we will only handle media and press requests. For all other questions, please use our contact form.
About us
What is Vay?
Vay is a technology-enabled mobility company that aims to bring sustainable, affordable and door-to-door-mobility services to metropolitan areas. With its first service, Vay plans to remotely bring and remotely park electric cars for its customers.
In addition to teledriving, Vay aims to gradually introduce autonomous driving functions in the system as it is safe and permitted to do so.
Our teledriving service can address the most pressing issues facing metropolitan areas around the world today. Since its founding in late 2018, Vay has been developing technology that can put a driverless car experience in the hands of consumers and reduce car ownership. From air pollution to high costs of transportation and traffic fatalities, our vision is for a world where smarter transport makes every major city cleaner, safer and better designed for people, not cars.
How does the service work?
Customers order an electric vehicle via the Vay app. A teledriver brings the car directly to a valid pick-up location for the customer - remotely controlled from the teledrive center. Upon arrival of the car, the customer then physically drives themselves to their destination. Once the customer has arrived at their destination, a teledriver takes over the vehicle once again at a valid drop-off point. This eliminates the time-consuming search for a parking space.
What is teledriving?
Our teledriving technology enables a person ("the teledriver") to control a vehicle remotely ("teledriving"). Teledrivers sit at a teledrive station with a steering wheel, pedals and all necessary operation devices developed according to automotive industry standards. The visual perception is reproduced
via camera sensors and transmitted to the screens of the teledrive station.
Road traffic sounds, such as emergency vehicles and other warning signals, are transmitted via microphones to the teledriver's headphones.
Contact us
Contact us
Contact us
Contact us
Contact us
Contact us
Contact us
Contact us
Contact us
Contact us
Contact us
Contact us
Contact us
Contact us
Contact us
Contact us
Contact us
Contact us
Contact us
Contact us
Contact us
Contact us
Contact us
Contact us
Contact us
Contact us
Contact us
Contact us
Contact us
Contact us
Contact us
Contact us
Contact us
Contact us
Contact us
Contact us
Contact us
Contact us
Contact us
Contact us
Contact us
Contact us
Contact us
Contact us
Contact us
Contact us
Contact us
Contact us
Contact us
Contact us
Contact us
Contact us
Contact us
Contact us
Contact us
Contact us
Contact us
Contact us
Contact us
Contact us