Christian Hertlein shapes Vay's identity as Director of Design and Brand. He has built our brand and is developing the overall brand image, product design as well as the Vay experience together with his team. Christian has worked in various fields, including roles as Head of Global Design at N26, as Senior Lead Designer at IDEO and at in-car interactions for Volkswagen.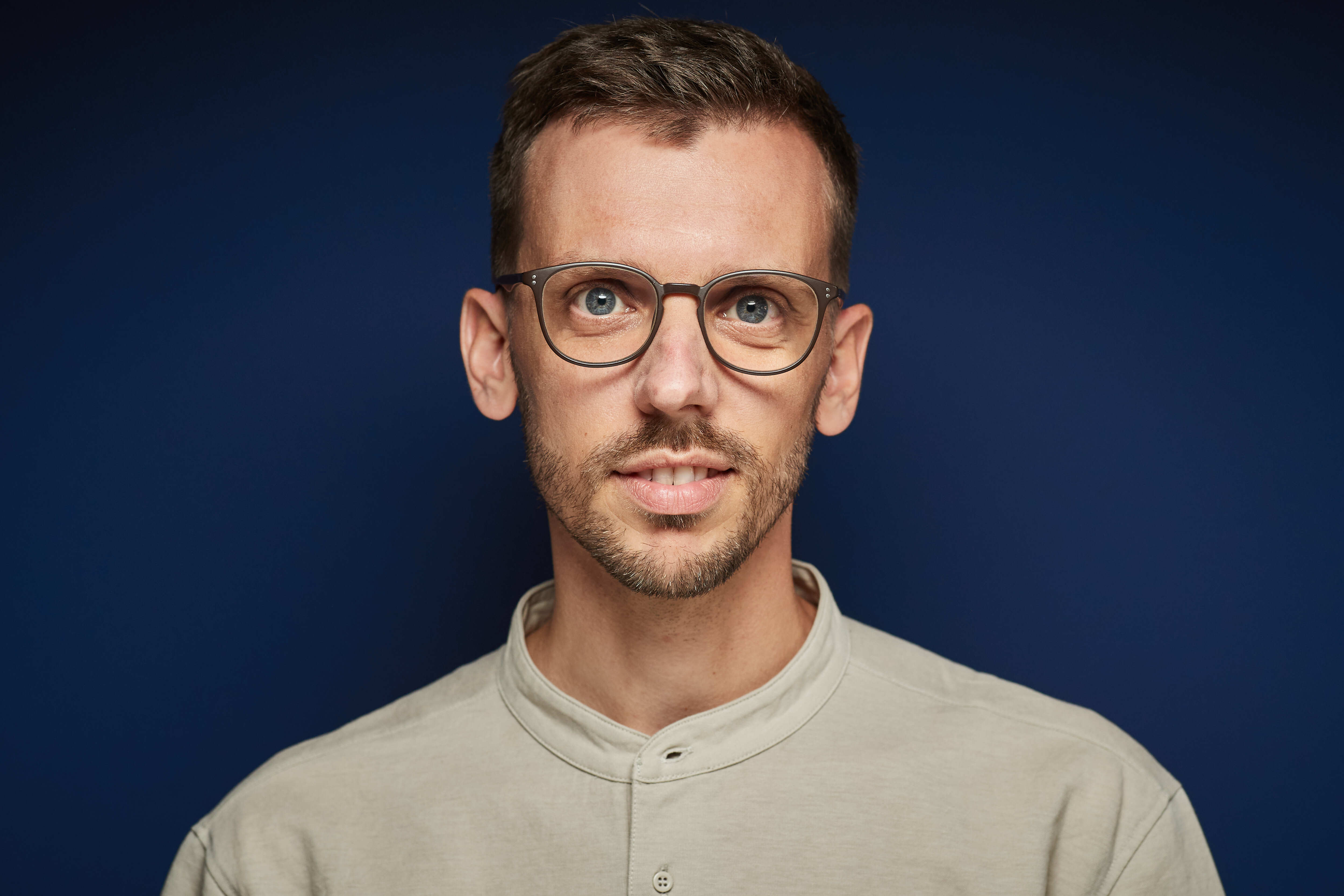 What is your role at Vay?
I am Director of Product Design & Brand. My role is to enable a team of designers, product managers, and marketing experts to create a disruptive product from a holistic approach, incorporating strategies and frameworks from a design-minded perspective.
Tell us a bit about your career before you joined Vay.
When I was still at school, I was already programming websites. Very soon I had to deal with who the visitors of these pages are and why they visit them. Besides the pure intention, I also wanted to understand how to make them more attractive and user-friendly. That was the point when I decided to become a designer.
I studied Interaction Design in Sweden and Germany, which is exactly the overlap between design, technology and psychology.
After graduating, I worked in various companies, such as in marketing at Mercedes Benz and in the consumer innovation division of Deutsche Telekom Laboratories. Over time, I grew further into innovation consulting, first at IXDS/PwC and later joining IDEO. After several years I decided to move on and joined N26, a mobile challenger bank, where I have been leading their design departments. Building culture, scaling the team from 6 to 60 people, shaping a holistic product experience, and repositioning the brand towards the early majority were key achievements during this period.
What made you join Vay?
I was fascinated by three different aspects: culture, vision, and opportunity.
During the first conversations, I have experienced a like-minded perspective toward culture, which is key for me to value and is a basic element to building a sustainable work atmosphere that unleashes creativity.
The vision is something I was able to relate to immediately. I strongly believe design plays an important role to serve user needs and owns an essential part to shape how we want to live in the future. Vay's vision to positively affect cities and mobility in the future is more than relevant, it will impact all of our lives.
Creating and shaping an experience that bridges digital, physical, and service experiences to generate a holistic experience with such a large impact on people's lives is rare and a great opportunity.
How would you describe Vay's brand identity?
What was the process behind building the brand from scratch?
I would like to start by giving my perspective on what a brand is.
A brand is one of the fundamental pillars of a company. It shapes and articulates personality, unifies goals, and contributes significantly to recognition. For this reason, a brand in a technology company is an integral part of the product and vice versa. Both influence each other and thus belong inseparably together.
Now the concept of a product is very broad and does not sufficiently do justice to what a company does. For this reason, the brand must also reflect those components that are not a core part of the product, which at the same time ensures the flexibility of how a brand evolves.
This was our starting point to create the Vay brand. We wanted to create an identity for the exciting future we are working on that clearly puts the user at the center of all efforts, as well as the possibilities.
For this, we started to establish a deep understanding of our business, our culture, our audiences, and our potential competition. Various workshops helped us to gather diverse perspectives and influences in order to define core attributes and sharpen our corporate values.
This was followed by a development of a future-proof brand strategy platform and a story to articulate what Vay stands for – internally and externally. The brand platform contains our meaningful differences, brand positioning as well as our brand attributes. This can be seen as the theoretical basis on which the translation into the most diverse perceptible areas takes place.
The very first perception takes place in the principle of the positioning of a brand, articulated as a manifesto as well as in the definition of the brand purpose.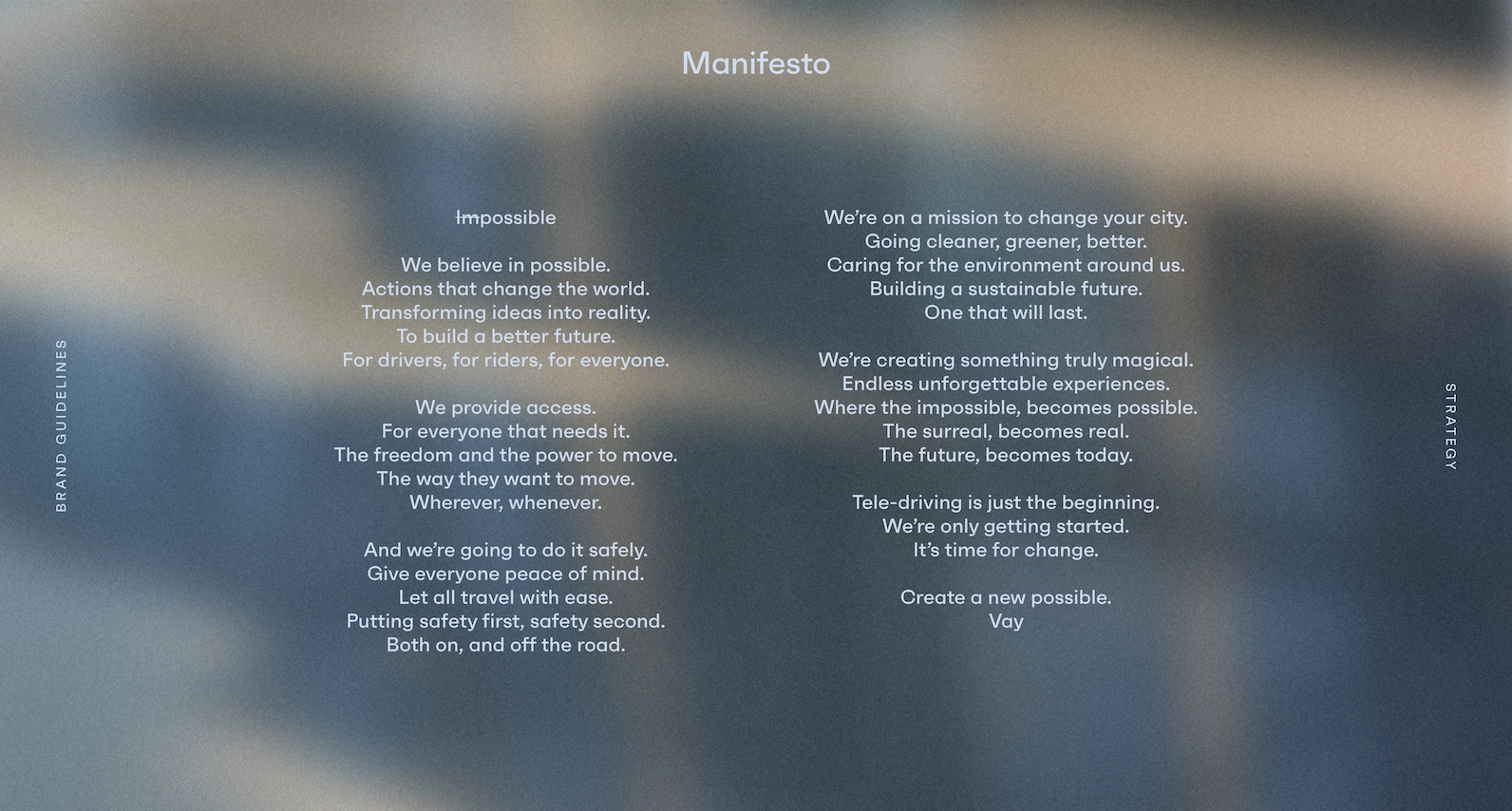 The manifesto and brand purpose, as well as the brand attributes, served us as a basis, as orientation principles, to elaborate brand elements such as the logo, the typeface, the color palette, the general graphic language, and the visual language as well as the tone of voice.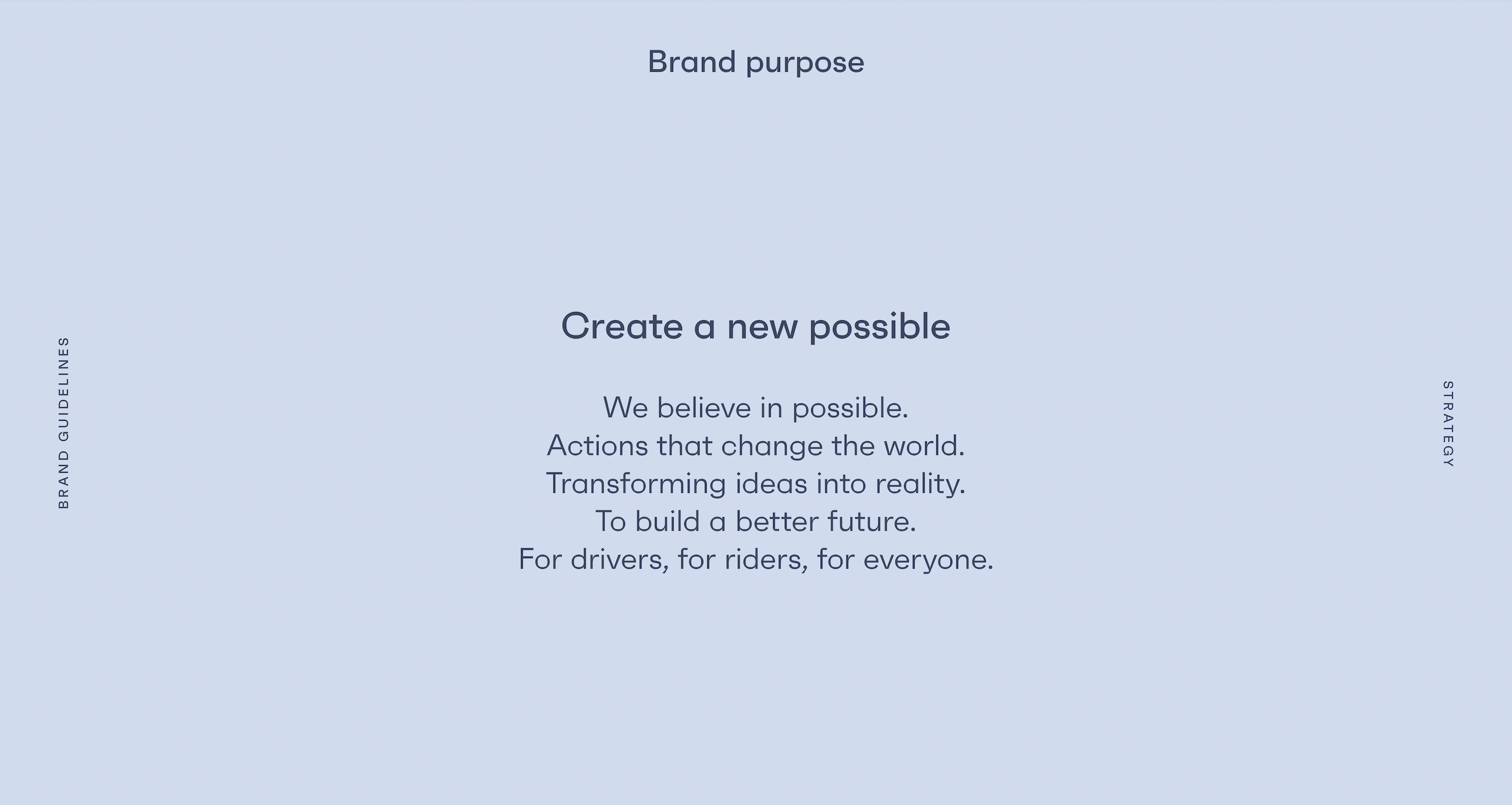 The goal of Vay's brand design is to create an accessible product that reduces the fear of the new and puts the human being in the foreground in all respects – with all the needs and desires that people have. Design does not have the task to be beautiful, it must be immersive and perceptible.
How are you implementing the brand identity at Vay?
We strive to create a holistic experience. Simply put, the experience takes place on three levels: The digital, physical, and the service experience.
So the exciting thing is to create an experience from the very first touchpoint someone has with us to the digital experiences in the browser or our app as well as in the physical environment of the car.
That's why we have an interdisciplinary team of marketing experts, product managers, brand designers, product designers, industrial designers, and user researchers who continue to define, refine and grow Brand. Bridging the gap between a digital and physical experience is considered one of the biggest challenges.
How does an app smell, how does a visual language sound, and haptically is a brand in a car? This is the change of perspective we undertake in order to find answers and create a truly holistic brand.
How does being a brand & design professional influence your personal life?
I believe that one becomes a designer out of conviction, not only as a job.
In my case, I started with a classic education as a graphic designer. It was only later in my interaction design studies and in my work as an innovation consultant that my attitude towards design changed.
Design is a mindset, a way of identifying opportunities from a different perspective and designing solutions. Design accompanies me every day, in everything I do. I especially love to be inspired, at dinners with friends, concerts, or exhibitions. My focus is always on the immersive, the sensory combination. At concerts, this is the atmosphere influenced by the people, the light and stage show, as well as the music itself.