Hi everyone! My name is Kate Mulligan, and I'm in the People & Culture team at Vay. I recently celebrated my 1-year anniversary in this role, and I'm excited to share some of my experiences and insights with you. In this Inside Vay, I'll be telling you about the challenges and great learnings I have experienced in my role and my vision for creating a psychologically safe and inclusive work environment that supports our employees' growth and success.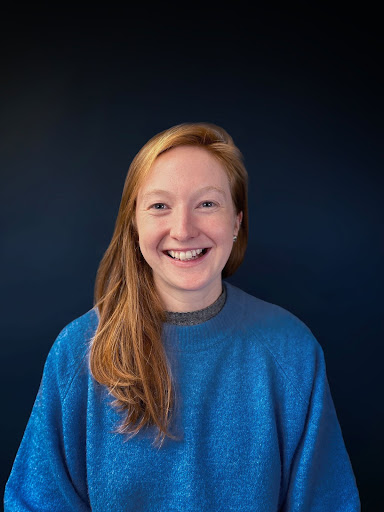 What drives me day by day at Vay
On office days, I find it rewarding to interact face-to-face with my colleagues and build strong working relationships. I work particularly closely with Vay's engineering team, helping to unite teams and leaders during the rapid growth phase at Vay.
On remote days, I focus on more strategic projects, such as building, retaining and developing talent programs. While I miss the energy of the office on these days, I do appreciate the opportunity to work in a focused environment and to complete tasks without interruption.
I was drawn to work at Vay for multiple reasons. One of the most compelling factors was the company's sustainable business model. As a pioneer in the teledriving industry in Germany, Vay is at the forefront of a new and exciting market, and it's great to be a part of that. I appreciate that Vay has a small People team, which creates a more personal and supportive work environment. Our Director of People Katya Eckert, is amazing to collaborate with and learn from. She has created a safe space for us to voice our ideas and really thrive!
I also appreciate Vay's family-friendly policies. Vay makes it possible to balance work and family responsibilities by offering flexible work arrangements, which is very supportive. Vay understands the challenges that come with balancing work and family, and they make it possible to be influential in the company while also being present for your children.
The most critical projects within the People Team
As my schedule changes from day to day, I have had the opportunity to learn and grow quickly in my role. The steep learning curve since I started has allowed me to develop new skills and take on new responsibilities.
Some of the larger projects we have worked on as a People Team in the past months have been, implementing a new onboarding process, setting up the Vay Technology Poland Entity, building and developing Talent retention programs and kicking off our internal VayAcademy with a first pilot of internal Leadership Trainings. We work on all projects collaboratively as a People Team, which I really enjoy as we can get creative and use each other as great sparring partners to find the most suitable approach and strategy for Vay.
A good onboarding process is the key to success!
While implementing our updated onboarding process, it was important for us to remember that onboarding is an ongoing process, and not just a one-time event. While the initial onboarding period may last a few days or weeks, new hires will continue to learn and grow in their role during their probation period and beyond. The People team continues to provide support and guidance to new employees during this time and ensure they are supported on their career path at Vay. During the Probation Review Period, Professional and Personal Development goals are created for all team members in conjunction with their lead. These goals will be the basis of employees' career journey at Vay and are supported by our internal VayAcademy.
One of the most challenging aspects about creating a well functioning onboarding process is to keep up with the rapid growth of Vay while maintaining a positive and supportive entry into the company for everybody. Managing the onboarding process for new employees has been challenging (in times of rapid growth) but an essential and fun task for us. By keeping the onboarding roadmap in mind, providing support and guidance, and recognizing that onboarding is an ongoing process, the People team can help ensure that new hires have a successful and fulfilling experience at Vay.
Challenges are a part of the job
Throughout my career, I've learned that challenging situations can be some of the most valuable learning experiences, even if they're extremely difficult. It's important to approach these situations with empathy and understanding, but also keep in mind the business needs of the company.
What inspires me
One of the things that I enjoy most about my job is welcoming new employees to the team and being able to support the team to grow both personally and professionally on their career path. I love meeting people from all over the world from different backgrounds and supporting them as they embark on their journey with Vay and their new country of residence. It's exciting to see how they experience the company and their new roles, and it's rewarding to be a part of their journey.
Lastly, I strongly believe that pursuing hobbies and interests outside of work is crucial for a healthy work-life balance. Not only does it help relieve stress, but it also improves your overall well-being. Personally, I love to go running as it helps me switch off at the end of the day. I have successfully participated in two half marathons and am hoping to complete a marathon if I can make enough time for training soon. Reading and travelling also mean a lot to me and provide me the perfect time out. Spending time with my friends and family makes me realise what's important in life (when I sometimes forget) and is also vital for me to rejuvenate after a hectic day. It's important to prioritise these activities and make time for them in our busy lives. And who knows, pursuing these hobbies may even lead to new opportunities and experiences that we may have never imagined before. So go ahead and find your passion, and don't forget to enjoy the journey!