Vay on the road in Hamburg with Volker Wissing, our Federal Minister of Digital Affairs and Transport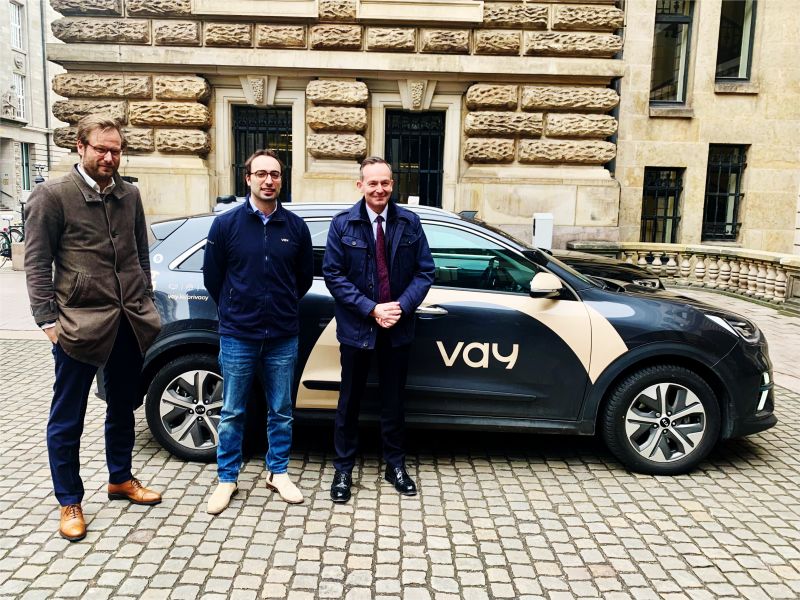 On April 1st our Federal Minister of Digital Affairs and Transport Volker Wissing visited Hamburg and we had the pleasure of taking him for a ride together with Anjes Tjarks, Hamburg's Senator for Transport and Mobility Change and our co-founder Fabrizio Scelsi. The minister's conclusion: "This could be a good alternative to owning a car."
We agree: With our door-to-door mobility-solution, we can offer a convenient service that is priced at car sharing – and should not be more expensive than a private car in the future.
Here's how it works: Users will be able to order an electric vehicle via app, which will be teledriven directly to their doorstep – remotely controlled from the teledrive station. Afterwards the customers take over the car and drive themselves to their destination. There is no need to search for a parking space, as a teledriver takes over the vehicle at the destination. Our teledrivers sit at a teledriving station that complies with current automotive standards. Monitors give them a good overview of the traffic situation at all times.
With Minister Wissing we discussed the great potential of our teledrive mobility service to make cities greener and more livable through our fully electric and highly utilized fleet. Now is the time to create the future here in Germany and Europe. That's why we also discussed the possibilities of creating standards and best practices for innovative mobility solutions from within Germany.