Did you ever wonder what the future of the driving profession looks like?
With our Vay Teledrive Academy we have set up a thorough training program for our remote drivers (teledrivers) as an integral part of our safety concept. So far we have certified more than 20 teledrivers. Based in Germany and the US, they perform technical and operational tests, demonstrate our technology to the outside world, and prepare for our first teledriven mobility service.
Find out how teledriving works:
The Teledrive Station – the workplace of the teledriver
Teledrivers sit at a teledrive station with a steering wheel, pedals and other vehicle controls developed to meet automotive industry standards. Visual perception is transmitted through multiple camera sensors, while road traffic sounds are delivered via headphones, allowing teledrivers to maintain situational awareness.
Entry requirements for the Vay Teledrive Academy
Anyone who enjoys driving and has held a driver's license and has relevant driving experience can apply to become a teledriver at Vay. After an initial telephone interview, a practical training session shows both the applicant and the teledriver trainer whether teledriving is right for the individual. If the theoretical knowledge is also given, there is nothing standing in the way of training at the Vay Teledrive Academy.
The training program
The teledriver training program at Vay is comprehensive and structured with the aim of teaching a safe and defensive driving style. It consists of 4 modules, combining practical exercises, theoretical classroom sessions, and tests to assess candidates' proficiency. All teledrivers first undergo training to become safety drivers.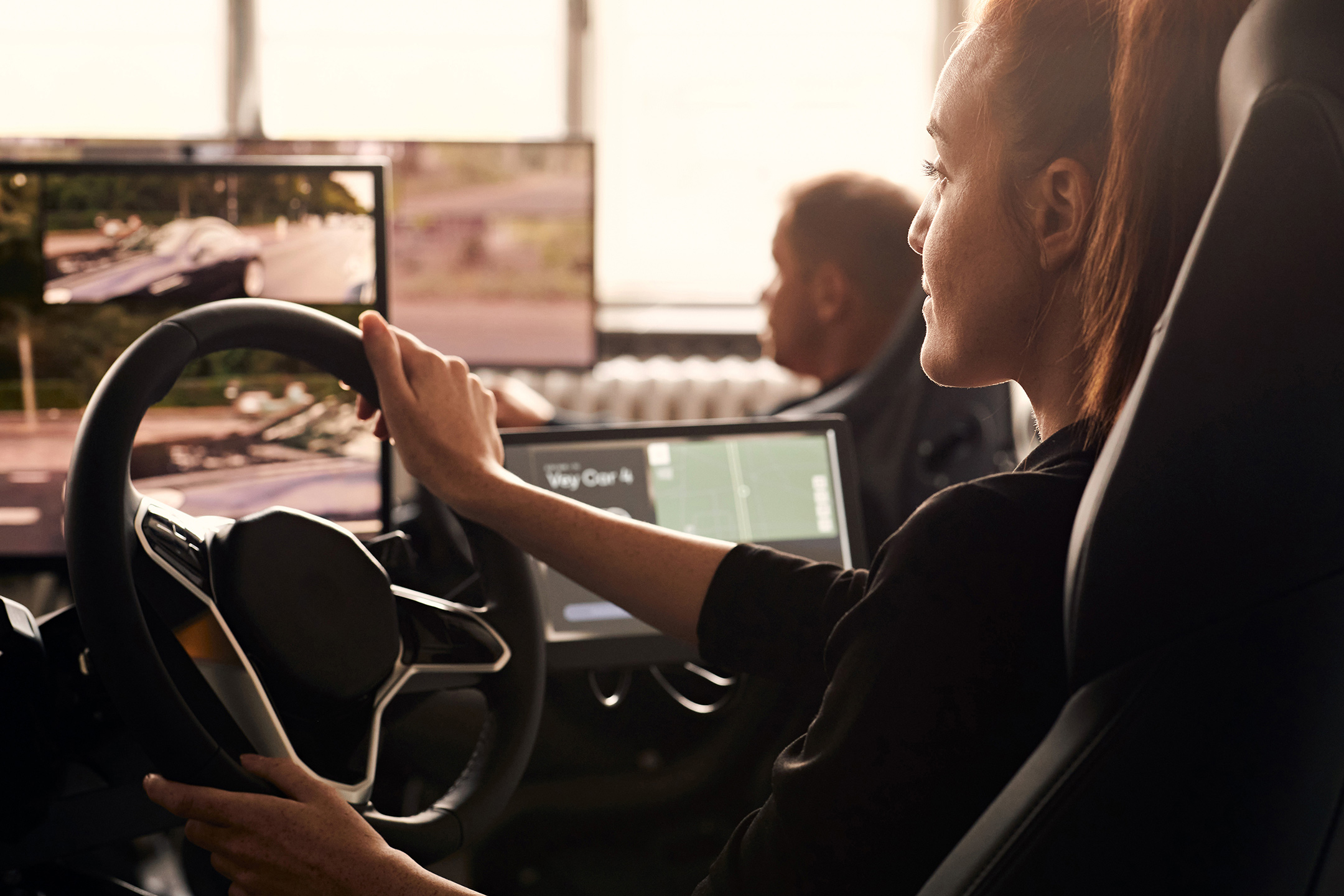 Module 1: General introduction for being a teledriver at Vay
A high-level overview of the Vay System (teledrive station, vehicle and interface)
Learn about duties as a safety driver and teledriver
Basic rules for teledriving Vay vehicles (Rule #1 and Rule #2 is SAFETY FIRST)
Elaboration on how Vay ensures the highest safety standards
Complete the final theory test successfully (online test on road traffic rules and safety behavior)
Module 2: Safety Driver Certification
Get an overview of our technology from the safety driver perspective
Learn the safety driver checklists for the Vay car by heart
Undergo tests regarding responsiveness
Train communication to the teledriver
Perform different safety driver take over scenarios
Reach a predetermined amount of kilometers as a safety driver
Receive safety driver certificate after successful examination
Module 3: Teledriver Training for Private Grounds
Get an overview of the technology from the teledriver perspective
Learn the teledriver checklists for the teledrive station by heart
Train communication to the safety driver
Practice the use of the emergency button
Perform different maneuvers on private grounds (e.g. Minimum Risk Maneuver scenarios, braking and swerving scenarios)
Reach a predetermined amount of kilometers as a teledriver on private grounds
Complete the final teledriver theory test for private grounds successfully
Module 4: Teledriver Training for Public Streets (with safety driver)
Learn rules for safe teledriving
Scenario-based theoretical teaching using examples of public roads
Learn about relevant safety processes
Reach a predetermined amount of kilometers as a teledriver on public grounds
Introduction into the continuous training through e.g. additional training modules, disengagement reviews and safety score evaluation
Complete the final teledriver theory test for public streets successfully
Receive teledriver certificate after successful examination
Through rigorous training and advanced technology, we empower our teledrivers to drive with confidence, turning our mission to bring safe, affordable, and sustainable door-to-door mobility services from Europe to cities around the world into a reality.